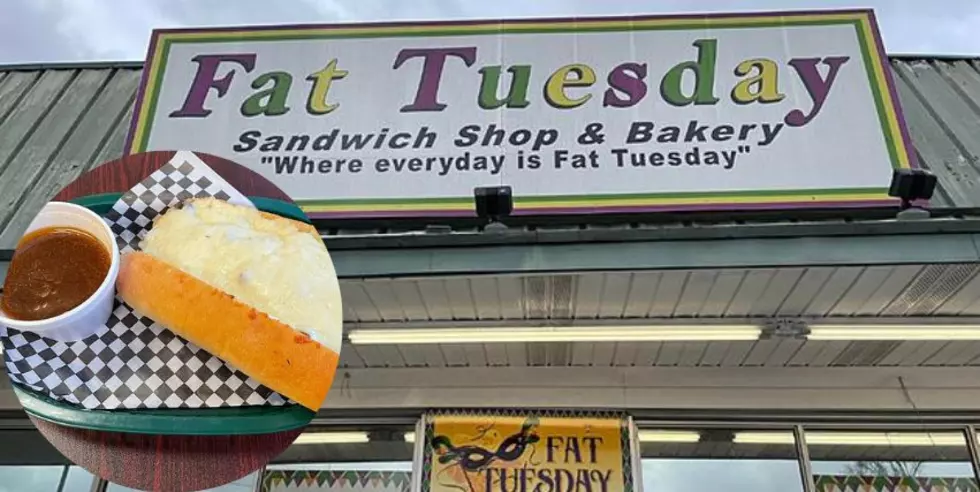 Bossier Eatery Makes the Best French Dip Sandwich in Louisiana
Krystal Montez
A while ago I asked Shreveport-Bossier to tell me all about the best sandwich you could score in Shreveport-Bossier. So many new places popped up on my radar.
There Was One Sandwich Shop That Was Recommended Multiple Times
I had never seen Fat Tuesday before. I heard their King Cakes are delicious. According to several people around Shreveport-Bossier, it's the best spot for lunch. It was almost like the owner had a fan club. Chef Brady the proud owner of Fat Tuesday has a crowd that follows him wherever he goes. Is one of the best Chefs in town creating amazing sandwiches? Yes, yes he is.
Chef Brady Sells the Best Sandwiches in Shreveport-Bossier at Fat Tuesday Sandwich Shop.
The sandwich selection is vast. I couldn't decide what to order so I asked the girl at the counter for her top 3 options. She gave me some options and she said: "If you want the most popular item on the menu order the number one". I realized it was a french dip sandwich on steroids. Should I order it?
A Good French Dip Sandwich is Hard to Find.
Up until this point I had tried a few French Dip sandwiches in Shreveport and had been let down. Would this sandwich be just another letdown? The girl at the counter said, "It's really good, it has onions, mushrooms, roast beef, and cheese on it." Okay so basically a Philly cheesesteak type sandwich dipped in Au Jus? Screw it, she says it's good, I'm in.
Ladies and Gentlemen, Boys and Girls of All Ages, This is the Best Sandwich You Can Buy in Shreveport-Bossier.
Maybe it's the freshly made hoagie bun? Maybe it's how the beef, mushrooms, and onion are perfectly married in flavor? Maybe it's the hot au jus? Maybe it was the cheese that they topped it with? Chef Brady is a mastermind and created the best sandwich I have ever had in my life. Ladies and gentlemen, let me testify, let me preach my truth. The #1 at Fat Tuesday is the best sandwich money can buy in Shreveport-Bossier.
Chef Brady Was Asked to Feed Celebrities That Came to Shreveport's Geek'd Con.
His famous muffulettas and gumbo stole the show, the man is a king when it comes to anything food related. Yes, I believe his greatest creation is the #1 on the menu, however, celebrities were telling me they were served the best muffuletta ever. One guest even asked if we could hook them up with extra gumbo.
Best Sandwiches in Shreveport-Bossier
Best King Cakes in Shreveport-Bossier
The Best Wings in Shreveport-Bossier