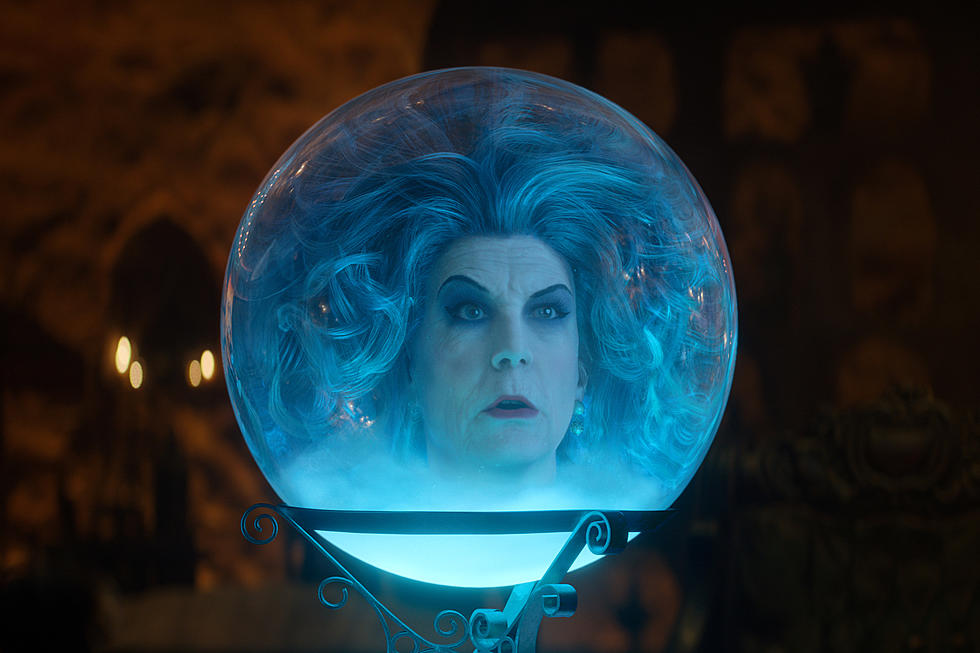 The 'Haunted Mansion' Trailer Is Full of Callbacks to the Classic Ride
DISNEY
Look, if you're going to make a Haunted Mansion movie based on the classic Disneyland attraction, I guess you might as well really adapt the ride. The trailer for the new version of Haunted Mansion (a previous film was released in 2003, starring Eddie Murphy and Terence Stamp) features a lot of characters and spooky effects and images plucked straight out of the ride that has been haunting Disneyland and Walt Disney World guests for decades.
I'm not the world's biggest Haunted Mansion expert, but even I recognized a bunch: There's the iconic stretching room where you begin your tour, there are two ghosts with antique pistols firing at one another, there's Madame Leota, the spectral head in a jar (played here by recently minted Academy Award winner Jamie Lee Curtis). Even the chairs in this mansion are meant to evoke the shape of the "Doom Buggy" ride vehicle that takes you through the Mansion in California or Orlando.
And there's the fabled Hatbox Ghost, a famous part of the attraction that was removed shortly after the Haunted Mansion first opened in Anaheim, and then was finally returned to his original home in 2015. In the film, he's played by Jared Leto. (Can't wait to hear how he got into character to play an undead ghoul!)
Take a look at the trailer below:
READ MORE: Theme Park Rides Based on Really Old Movies That Still Exist
Here is the film's official synopsis:
Inspired by the classic theme park attraction, "Haunted Mansion" is about a woman and her son who enlist a motley crew of so-called spiritual experts to help rid their home of supernatural squatters. The film's producers are Dan Lin and Jonathan Eirich, with Nick Reynolds and Tom Peitzman serving as executive producers.
Haunted Mansion is scheduled to open in theaters on July 28.

Amazing Theme Park Rides Based on Movies That Were Never Built