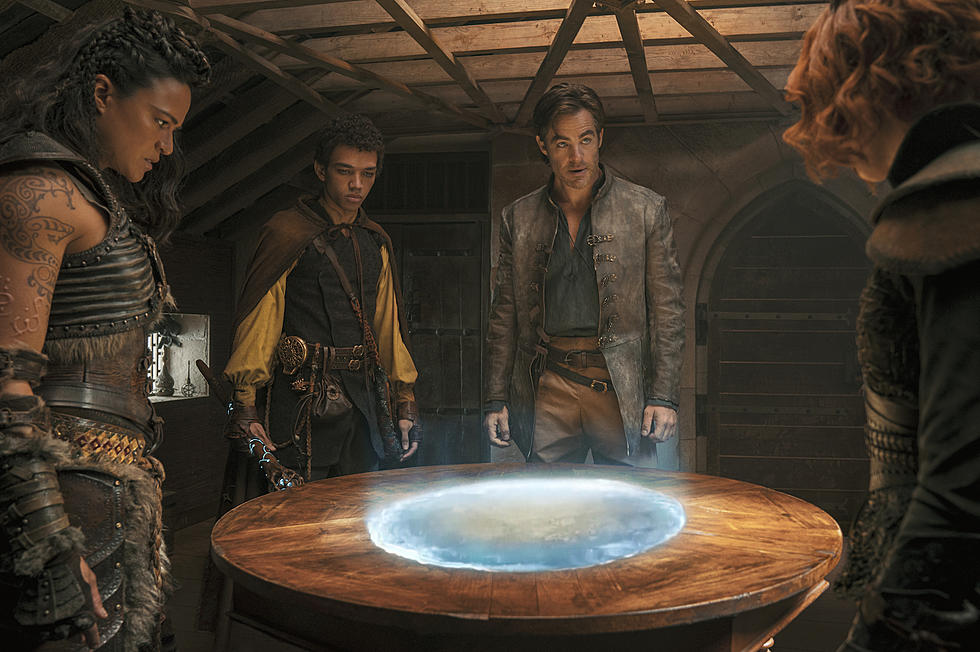 'Dungeons & Dragons' Brings the Blockbuster in New Trailer
Paramount
Is Dungeons & Dragons: Honor Among Thieves going to be a hit? I wonder. It has a great cast, including Chris Pine, Michelle Rodriguez, Regé-Jean Page, and Hugh Grant. It's from Jonathan Goldstein and John Francis Daley, who made the hugely entertaining comedy from a few years ago Game Night. (Wait, did they get this gig because they made Game Night and Dungeons & Dragons is a game? That would be funny.)
The new trailer for Honor Among Thieves — and this movie has had a bunch of trailers at this point — is good too. It features a lot of creatures and magic and a witty scene that feels like something out of a Sam Raimi movie where Chris Pine interrogates a corpse for information but can only ask it five questions before it dies again — and then he wastes all his questions in a semantic argument with this desiccated creature. Funny!
And the movie does look expensive. I just wonder: What kind of audience is there for a huge Dungeons & Dragons movie? Obviously, the roleplaying game has its stalwart fans. But are there enough fans to turn a movie of this scale into a success? The last Dungeons & Dragons movie from 2000 grossed just $33 million worldwide. It had a cast with fewer big-name talents, but it was also Dungeons & Dragons...
Anyway, check out the new trailer for yourself. This is probably the best teaser for the film to date:
READ MORE: Blockbusters That Won the Oscar for Best Picture
Here's the film's official synopsis:
A charming thief and a band of unlikely adventurers undertake an epic heist to retrieve a lost relic, but things go dangerously awry when they run afoul of the wrong people.  Dungeons & Dragons: Honor Among Thieves brings the rich world and playful spirit of the legendary roleplaying game to the big screen in a hilarious and action-packed adventure.
Dungeons & Dragons: Honor Among Thieves is scheduled to open in theaters on March 31.
The Weirdest Marvel Comics Ever Published
Of all the thousands of comics published by Marvel, these are far and away the strangest.